StudioChunky works with clients to deliver quality products fitting their specific needs. With our specialists and state of the art technology, StudioChunky will manage all stages of production from scriptwriting, to casting, location scouting, still photography, 4K and 6K cinematography, audio design, music composition, narrations, animation, editing, and distribution. Our team is dedicated to your project from start to finish. Whatever you envision, we will bring your story to life.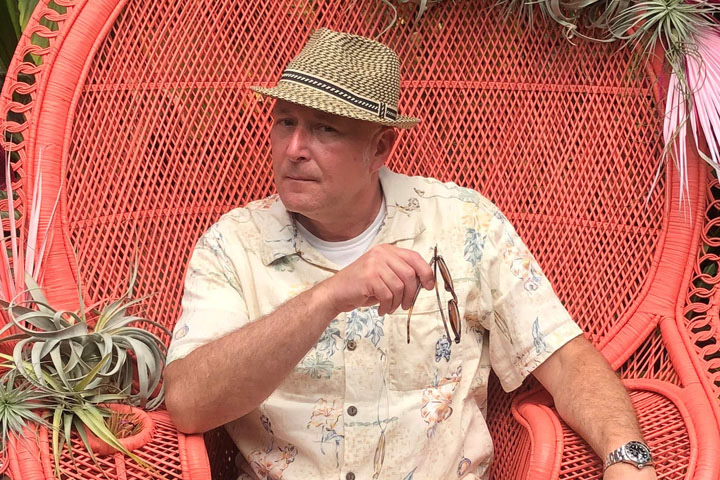 Barry Cobbs is a Writer, Director, and Producer of film and television. He began his career at 20
th
Century Fox Television on shows including In
Living Color
,
King Koopa
, and
The Arsenio Hall Show
for Fox,
Three Blind Dates
for MTV,
Mama's Family
and
Hollywood Squares
in syndication, and
Double Dare
for Nickelodeon. Barry's Producing credits include
Totally Hidden Video
for Warner Television, pilots, and specials for NBC Productions,
TV.COM
for USA,
CNET Central
for CNBC, and concert broadcasts of The Zac Brown Band, Blink 182, Gym Class Heroes, My Morning Jacket, and KISS for A

T&T.
StudioChunky is a proud sponsor of the Rogers Short Film Festival, where Elizabeth McCurdy and Barry serve as Co-Directors.
Elizabeth McCurdy is Production Manager at StudioChunky. In this role, she is responsible for staff, crew, scheduling, and supervision of physical production and post production. Lizzie is a graduate of Florida State University with a Bachelor of Science in Digital Media Production and Film. While at Florida State, she worked for Seminole Productions on multiple broadcasting platforms backed by ESPN, was a student guest of the Sundance Film Festival, and worked for the American Pavilion at the Cannes International Film Festival. Since joining the StudioChunky team, Lizzie has headed production management on all projects and operations, was editor for the short film,
One Hand On The Wheel
, is Co-Writer and Producer of the short film,
Hermit Kingdom
, and Production Manager on the feature film,
Resurrectified
. Lizzie founded and is Co-Director of the Rogers Short Film Festival.
Lamont Coleman is an American music producer, songwriter and multi-instrumentalist. Big smile, big hair, and big presence, humble yet exuberant. Lamont achieved early notoriety as a producer with artists such as Wyclef Jean, Akon, Lil' Wayne, T.I, Shakira, the Latin group Aventura, Justin Bieber, Eve, and Jim Jones. Having such a revolutionary spirit, Lamont supersedes restrictions imposed by the music industry. Led by pure instinct, he relentlessly pursues his passion for creating music that aims to uplift his audience and inspire them. Happily, his music has achieved great commercial success. "Sweetest Girl/Dollar Bill" by Wyclef Jean ft. Lil' Wayne and Akon went platinum in 2008; representing a highlight in his career. For his innovative production on this record, Lamont received a BMI Pop Music Award in 2009. Although his rise to fame has been along the "pop" and "urban" paths, he is steeped in gospel and has a massive love for country: consequently his own catalog reflects the breadth of his talent. In 2016, Lamont co-produced "Why Can't We Live Together" with Paul Shaffer feat. Darius Rucker. In 2018, Lamont produced and co-wrote the Disney theme song for

Coop & Cami Ask the World

. In 2021 he co-wrote and produced "Jump Into Wow" for

Mickey Mouse & Spidey

on Disney Junior. He has relationships and access to industry giants and entertainment resources that span the globe. As sound designer for StudioChunky, Lamont composes original songs and soundtracks for clients and productions. To follow his journey, visit IG @LamontColemanMusic

Management
Kinya started her art career in 1998, working for a yearbook publishing company in Kansas City, Missouri. Over the course of twenty years, Christian has worked for a commercial offset printing company, a sign shop, a trade show exhibit company to a full-service advertising/marketing agency. In 2010 she started her own creative marketing company, 4209 Creative. Her branding work and fine art has been seen all over the country, from Broadway Publishing and HGTV, to public installations and private collections. Christian opened her own art gallery and studio, Into+View Art Gallery in the heart of downtown Rogers, Arkansas. Into+View focuses on under-represented and emerging artists of color, and women, and serves as a vehicle for establishing a sense of community for the artists by means of exhibitions, shared art experiences featuring culinary arts. She is a Mid America Arts Alliance Artist360 grant recipient, and a 2022 Dr. Margaret Sirman Clark Leading With Excellence Award for the Art honor from the Black Action Collective. She's also a talented graphic designer and artist. As Production Designer at StudioChunky, Kinya is critical in the development of the visual concept and aesthetic of our productions.
Luke graduated from Oklahoma State University, where he studied photography and cinema technologies. While in school he studied various forms of lighting for both photographic and cinematic application. His talent earned him a Teaching Assistantship in which he taught undergraduate courses in lighting and camera techniques. After graduating, Luke moved into marketing and commercial production as Director of Photography. Beginning with projects for HILTI and Hard Rock Casino, Luke's client list has grown to include The University of Arkansas, BOA, Sam's Club, UNX, and Synchrony Financial. Luke is director of both still photography and cinematography.
Inspired by the Soviet Propaganda and Siberian fairy tales, Olia writes and directs stories that explore primal emotions and tap into the human psyche. As a multi-linguist (Russian, Mandarin Chinese) with a diverse background, Olia focuses on thrillers and psychological dramas that break stereotypes and entice audiences to see the world's diversity and mythology. Olia is currently a member of the Disney Inclusion Initiative and The Blackmagic "Future Directors of Studio Features" program. Her first feature film "Snowbound" was completed within nine months and screened at the Marche Du Film during the 70th annual Cannes Film Festival. "Snowbound" got the US and international distribution: both on TV and streaming platforms such as Amazon, Tubi, iTunes and others. Her most recent short film "I Am Normal" has been at numerous festivals, including the Oscar qualifying ones such as Cinequest and LA Shorts. "I Am Normal" won "the best short film" at LA International Film Festival and Fusion Film Festival in London. Olia's works have been mentioned in Variety, Hollywood Reporter and Voyage LA. Most recently she helped establish and promote a new scholarship for female cinematographers to honor the memory of Halyna Hutchins - Olia's best friend and a collaborator on all of her projects. Olia also created several immersive theatrical shows which received recognition in the art community. Today she continues her journey as a filmmaker and content creator with a strong leadership mentality. She uses her childhood experiences, cultural knowledge, and insight into human psychology to create stories that will live on through the ages. She is the director of the StudioChunky production

Hermit Kingdom

. As Director at StudioChunky, Olia is the driving force behind the creation of commercials and films.
Nathan Roberts is a videographer, editor, husband, first-time father, and proud resident of Bentonville. Although a Southern California native, Nathan, and his wife quickly fell in love with the area, and within a short time of living here, have adapted to calling Northwest Arkansas "home." He loves exploring the local trails and the culinary scene. While living in California, Nathan obtained both a bachelor's and master's degree and worked in a variety of creative roles, the most recent of which was in the music performance industry. With his undergraduate degree in communications and a background in music, Nathan understands the complex integration of imagery and sound design that makes for a compelling and entertaining film. As Editor at StudioChunky, Nathan brings the rhythm, pace, continuity, and final polish to all of our productions.